Materials and Objects @ Tate Modern /
El Anatsui @ Turbine hall, Tate Modern
Ongoing exhibition /
10 Oct '23 – 24 April '24
What is an artist's medium?
Conventionally these would be paints and pencils for 2D work and marble or bronze for sculptural pieces. Certainly in classical perceptions of art these are still perceived by the wider public to sit at the top of the art hierarchy – "real art"! Over the last one hundred years however, the influence and use of other materials by artists has changed that narrative. The choice of material has become a conduit for meaning. To choose say bottle tops as a sculptural material over marble is to supply the bottle top with a significance beyond its commodity based function. This opens works up to different interpretations and engagements based on material association.
The Tate Modern takes a look at this development in its ongoing 'Materials and Objects' exhibition. By chance, the latest commission for the Turbine hall also uses unconventional materials to convey meaning and significance beyond the aesthetic.
Here are some observations:
The Collage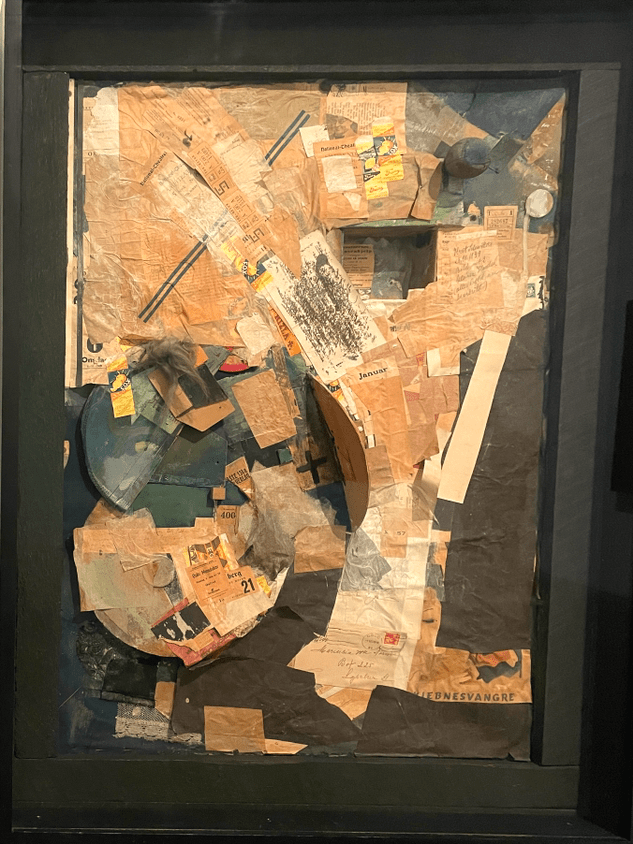 'Picture of Spatial Growths – Picture with Two Small Dogs' (1920 – 39) Kurt Schwitters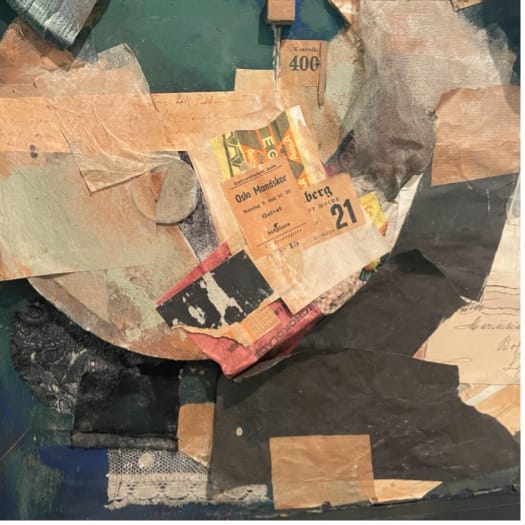 'Picture of Spatial Growths – Picture with Two Small Dogs' (1920 – 39) Kurt Schwitters - Detail
Schwitters described this as 'the combination for artistic purposes of all conceivable materials'. In his eyes these found objects had the same aesthetic potential as tubes of paint. An assemblage of rubbish and printed papers in 1920's Germany, completed in exile in Norway in 1939
How to reflect a journey into exile through found objects and the residues of life.
The Readymade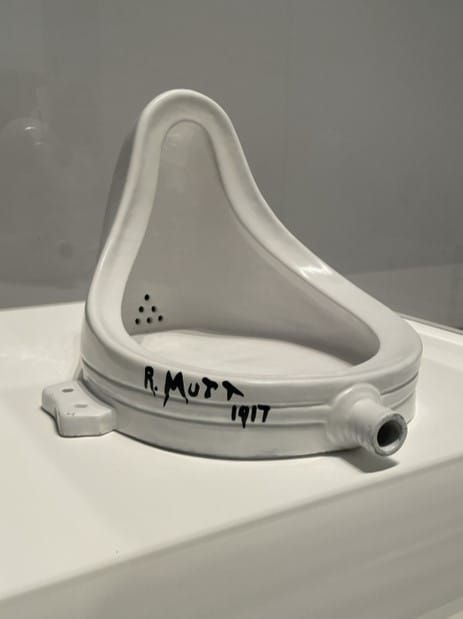 'Fountain' – Marcel Duchamp (1917)
Duchamp's 'Fountain' - Arguably the most important piece of contemporary art.
Coined a 'readymade', this transformed the discussion around what was deemed art. An object's role and value changed as a result of artistic intention.
In the wider world it's a urinal, but Duchamp, by choosing it as a piece of art changed its significance and thereby it took on a new meaning and role.
This wasn't immediately recognised as such, having been rejected for exhibition. It took a further 40 years for artistic discourse to catch up with this quantum leap in art.

The Intervention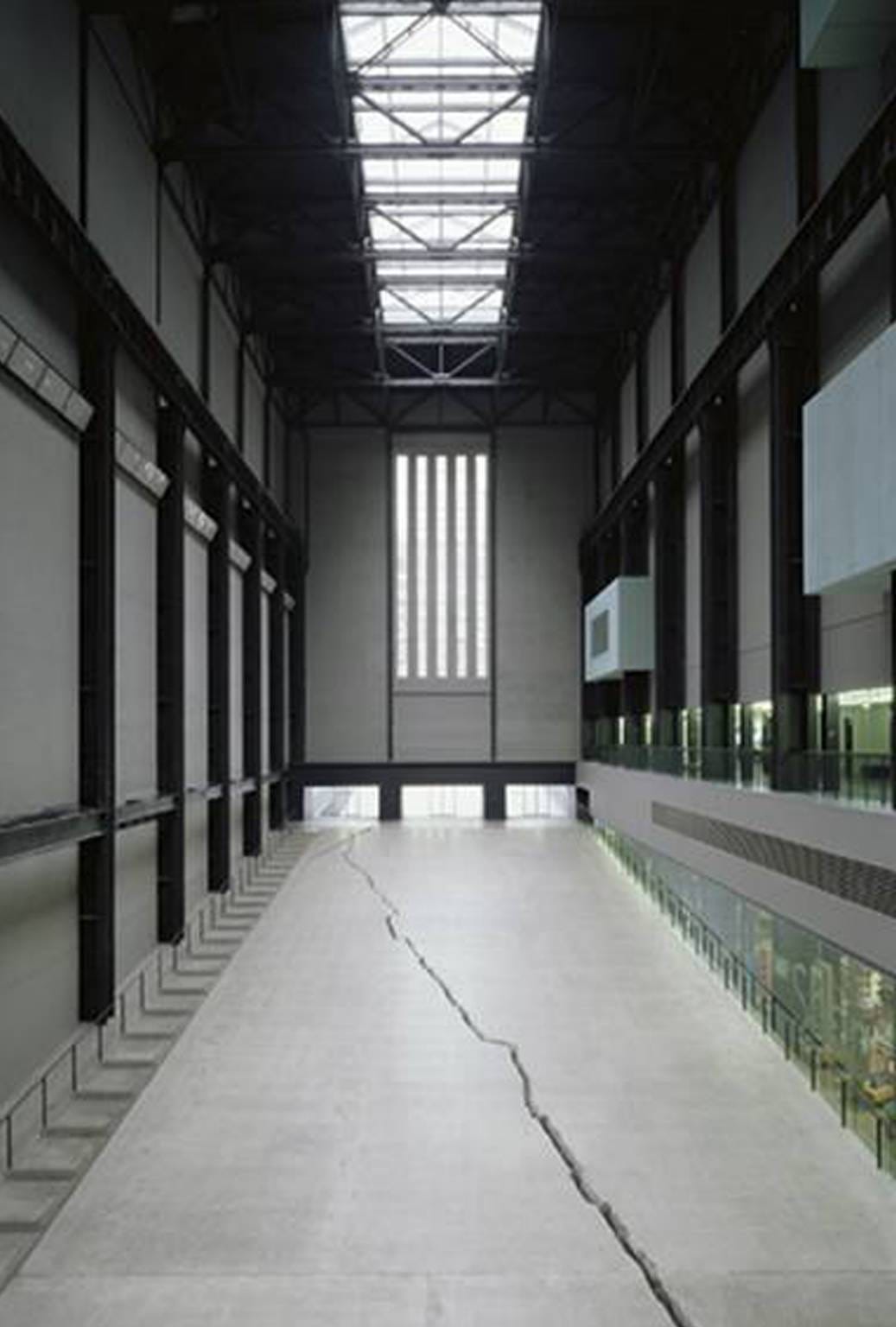 'Shibboleth II' – Doris Salcedo (2007)
A huge fissure running the full length of the floor of the Tate's Turbine Hall. Now all that remains are the digital composites and its, still visible, trace in the concrete.
'Shibboleth', 'refers to a word, phrase or custom that can be used to test whether or not an individual belongs to a particular group or region' and has its roots in biblical accounts of the slaughter of 'others'.
Salcedo uses this partly as a metaphor for the divisions inherent in societies around the world and of cultural exclusion, but also to criticise art institutions for reinforcing artistic and cultural hierarchies by ignoring the contributions of non- European cultures to the development of European artistic development in general.
The Reference
The 1960's conceptual artist Sol LeWitt, settled on a series of mathematical structures built according to a set of criteria. Taking the cube for example, its frame, the positive space would encase the negative space inside with a length ratio of 1:8.5, it would also be painted white. Although arbitrary restrictions, he produced a number of works to these criteria.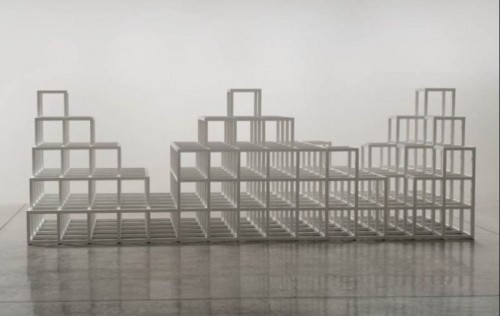 'Structure With Three Towers' – Sol LeWitt (1986)
Hague Yang engages with Sol LeWitt's criteria and modifies them whilst still retaining a discernible link. The title 'Sol LeWitt Upside Down – Structure with Three Towers, Expanded 23 Times, Split in Three' is a literal description of Yang's work and makes no secret of its source material, thereby questioning notions of authenticity and authorship.
The choice of blinds is interesting as it simultaneously retains the form of the original Sol LeWitt piece whilst also breaking with the original criteria.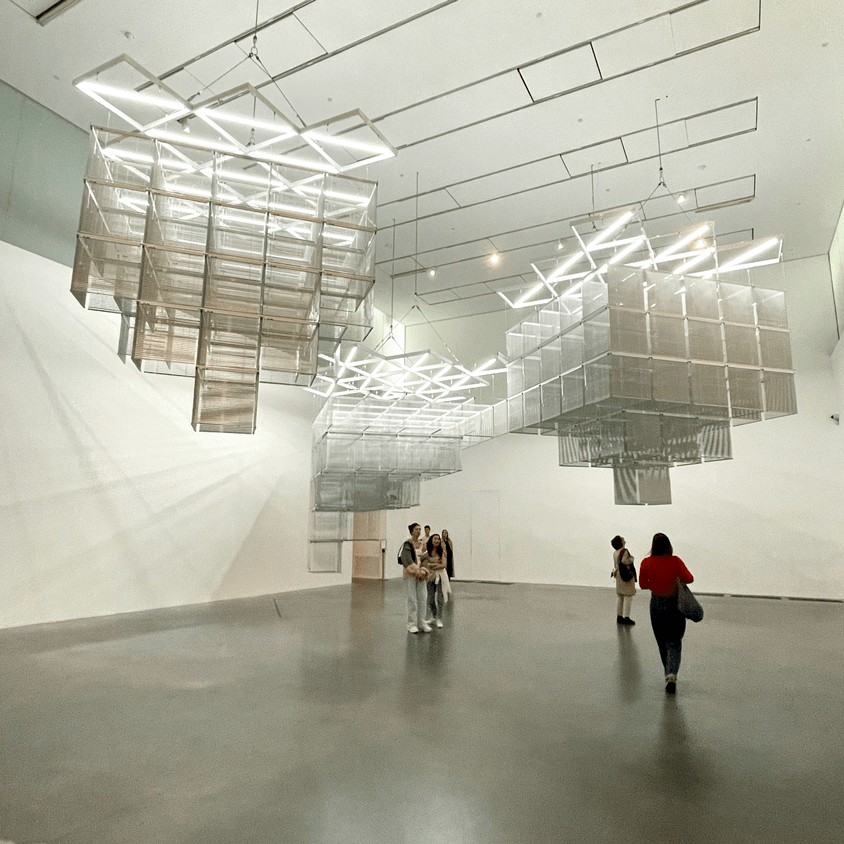 'Sol LeWitt Upside Down – Structure with Three Towers, Expanded 23 Times, Split in Three' – Hague Yang (2015)
'Sol LeWitt Upside Down – Structure with Three Towers, Expanded 23 Times, Split in Three' – Hague Yang (2015) - Detail
Bottle Tops and Materiality
'Behind the Red Moon' – El Anatsui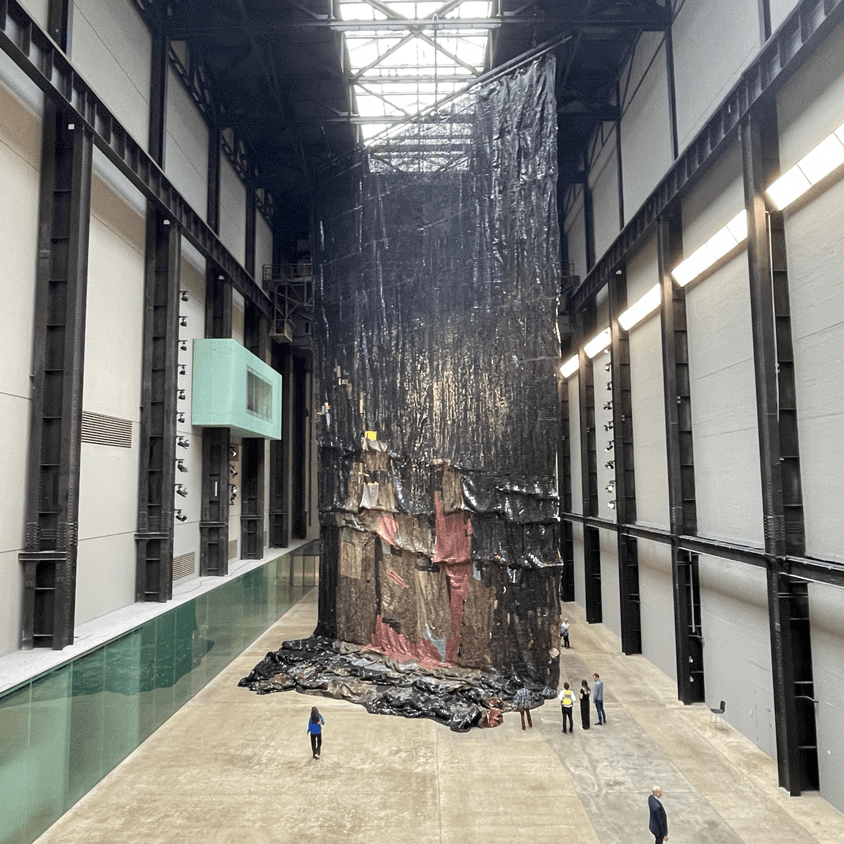 Act III: The Wall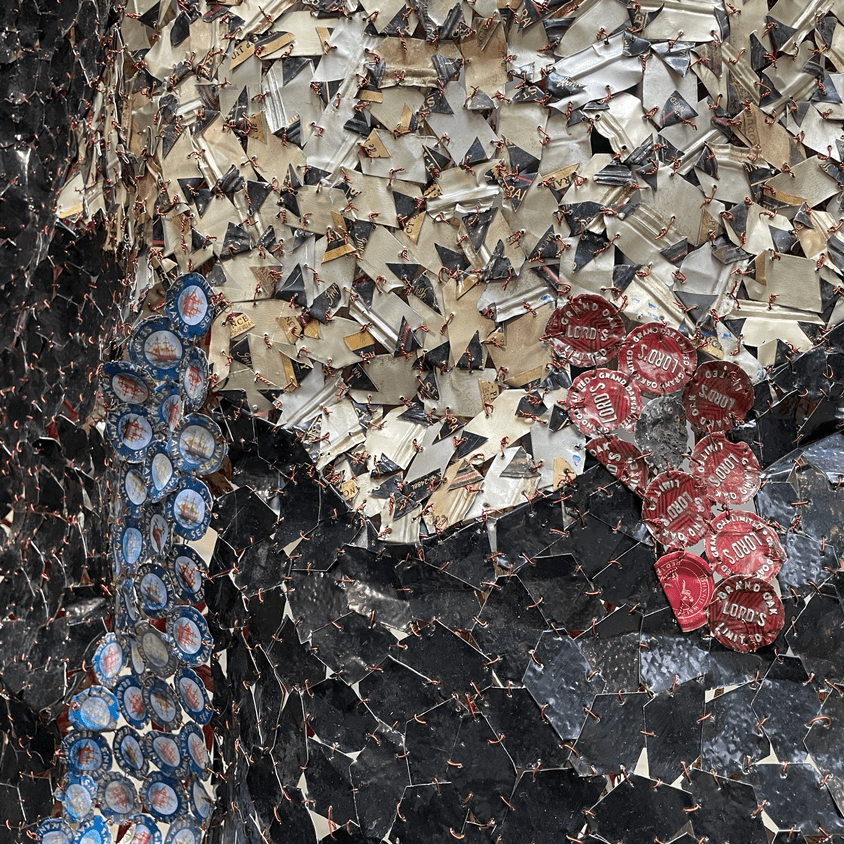 Act III: The Wall - Detail
The Turbine Hall at the Tate Modern is a space so large that artists often struggle to cope with it. Exceptions include 'Marsyas' (2002) by Anish Kapoor, 'The Weather Project' (2003) by Olafur Elliasson, 'Shibolleth' (2007) by Doris Salcedo, and 'Sunflower Seeds' (2010) by Ai Wei Wei. El Anatsui's 'Behind the Red Moon' is another one to add to that list.
Huge drapes hang from the ceiling. The first, red on one side yellow on the other billows towards the entrance like a huge sail. At the opposite end of the turbine hall, the second, predominantly black on one side and a mosaic of different colours on the back, hangs ominously with crumpled folds at its foot. Hanging between the two, golden figures lie suspended. Not randomly as a first impression would suggest, because when viewed from a given angle these forms align to form a circle.
Their significance, because there is one, is remarkable.
Bottle tops and pieces of metal taken from commodities that have their roots in colonial industries. A cycle of slave labour harvesting sugar cane, used later in the alcohol industry and subsequently shipped back to Africa. The billowing sail alluding to the ships that took them to the plantations of the Caribbean. The circle, in fact a globe, emphasising the individuals from disparate lands that came together in this new world. The wall, a dead end perhaps, but on its reverse the myriad of colours highlighting the collision of global cultures.
This installation works because of its innovative and knowing use of materiality. The use of bottle tops a choice that gave additional poignancy to a bleak chapter of history.