Joana Vasconcelos @ Yorkshire Sculpture Park
07 January 2020 – 09 January 2022
The Guerrilla Girls, who produced the now famous "Do women have to be naked to get into the Met. Museum" campaign, highlighted very effectively that women artists have to try a lot harder than their male counterparts to become recognised by the art establishment.
It is therefore a testament to Joana Vasconcelos' quality as an artist, that she is regarded as one of the best conceptual artists of our time.
In 2005 she was one of the artists chosen to represent Portugal at the Venice Biennale. In 2012 she became the first woman to have a solo exhibition at the Palace of Versailles. In 2018 she became the first Portuguese artist to have a solo show at the Guggenheim in Bilbao. She is a heavyweight.
Fortunate enough to stumble by chance upon the Bilbao exhibition, this time my visit to her exhibition at the Yorkshire Sculpture Park was definitely planned. Although much smaller in scale than the one in Bilbao and exhibiting some of the same pieces, the feeling was still one of being in the presence of work by an artist with a unique vision of women, identity, society and cultural traditions.
Portuguese lace wrapped around Bordallo Pinheiro ceramics feature as you would expect, as does one of her monumental Valkyrie pieces, with limbs feeling their way across the gallery space. However, what resonates more are those pieces that hold a mirror up (sometimes literally) to the society in which we live.
Here are some of the highlights: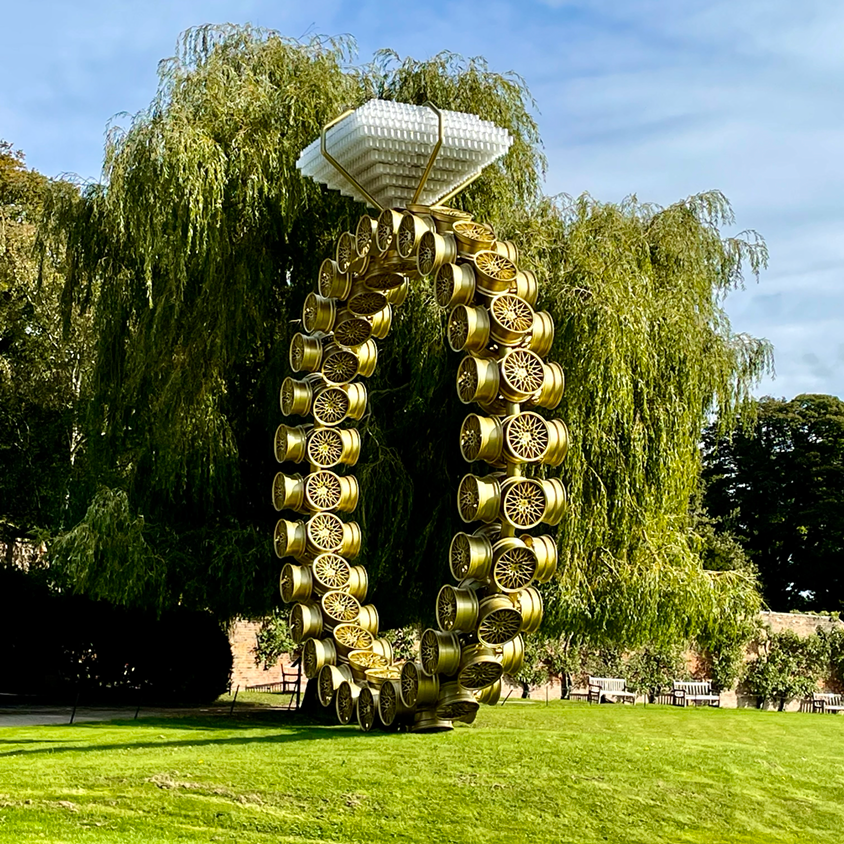 'Solitaire' (2018)
A crushing indictment on the warped values of our current societies. Crystal whisky glasses, sitting atop a ring of golden wheel rims. This 7m sculpture, brash and inescapable, confronts the distorted aspirational mindset of contemporary consumerist culture. A culture where a fast car and a diamond ring are the aspirations of millions.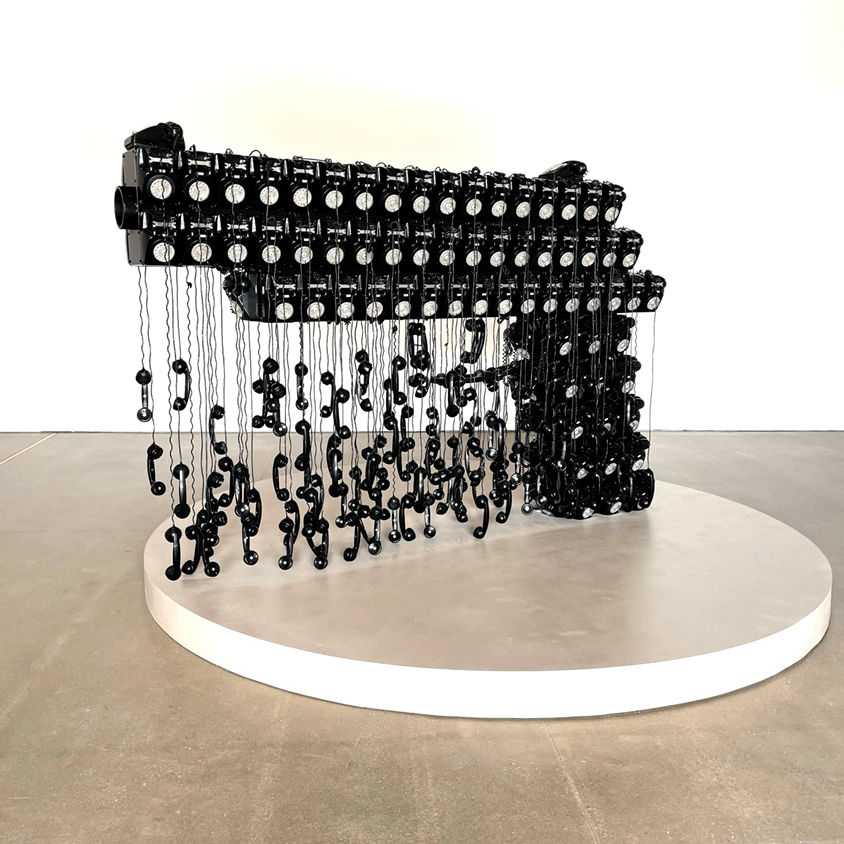 'Call Centre' (2014 – 2016)
In a society where tens of thousands try to earn a living working in call centres, Vasconcelos highlights it for what it is, a hell akin to a gun pointed at your head. Accompanying the piece is a cacophony of phone ringing that leaves the viewer on edge and slightly disorientated.
The gun formed from analogue rotary dial phones leaves no ambiguity as to it its significance. Brilliant.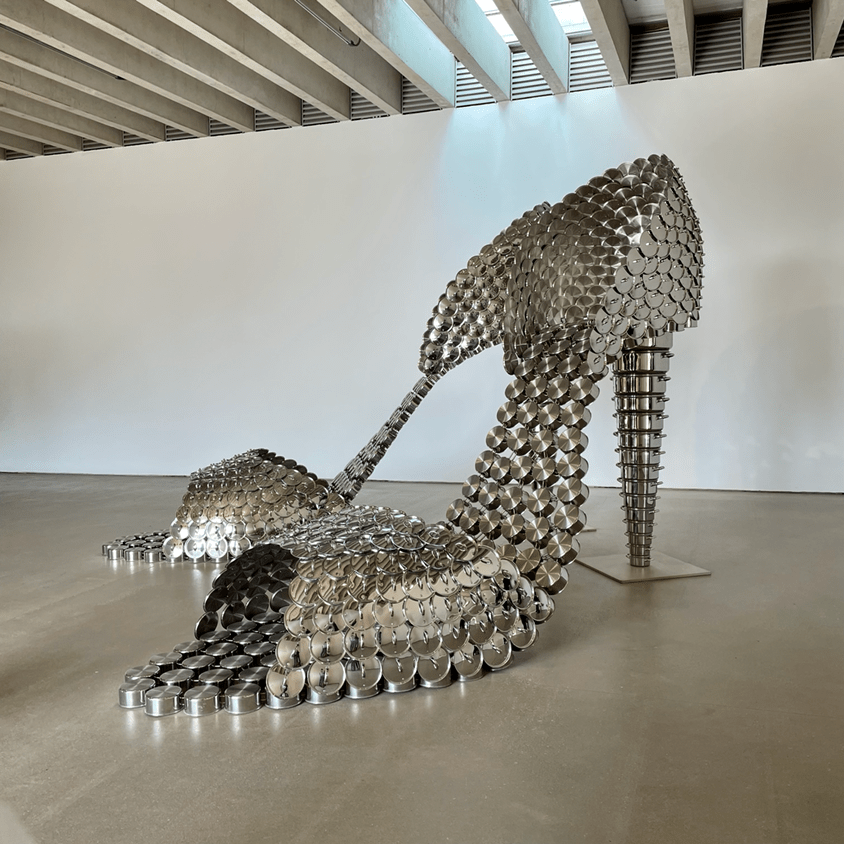 'Marilyn' (2011)
Vasconcelos' comment on the role of women in many contemporary societies – Portugal certainly. A role in which the 'perfect' woman should be both glamourous and a domestic goddess.
The 3m high stilettoes made from hundreds of sparkling pots and pans scream 'sophistication' yet taunt you too. Are your pots and pans as clean as mine? Are you as perfect as me?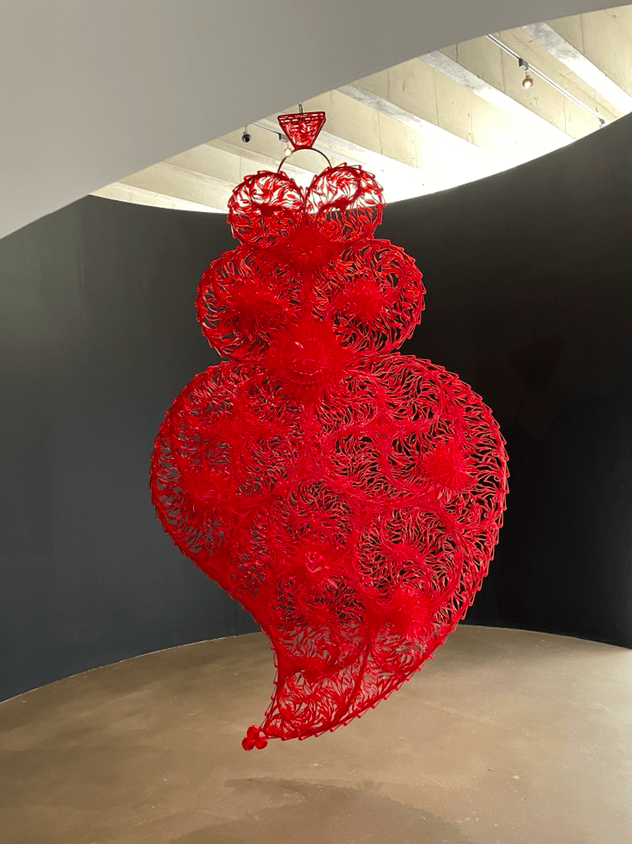 'Red Independent Heart' (2013)
The significance of this piece is quite subtle and an understanding of Portuguese culture certainly helps. In Northern Portugal, hearts made of gold filigree are used in courtship as gifts from the man to the woman. A symbol of love. The Fado music that also accompanies this work is also seductive, as Fado music is often about love lost and longing. Portuguese men (of a certain age) will cry on hearing Fado as its significance runs so deep.
What Vasconcelos does here is subvert this meaning. The filigree heart as a gift can also be seen as a symbol of possession. i.e. "I have given you this and now you belong to me" and she makes her preference clear with the title "Red Independent Heart".
The material too rather, than gold filigree, is made from disposable plastic cutlery.
Although a relatively small exhibition, it is still the largest one of her work in Britain to date. It's a wonderful introduction to Vasconcelos' artistic practice and presents the viewer with profound alternative visions on contemporary life.