Contemporary Art @ The Gunton Arms
It takes a certain panache (and clearly some serious money) to cover your restaurant walls with artwork that puts many galleries and museums to shame.
This is no exaggeration, the walls of the Gunton Arms include works by eminent artists such as Gilbert and George, Tracey Emin, Damien Hirst, Paula Rego, Glenn Ligon, Nobuyoshi Araki and Joana Vasconcelos to name but a very few. On every wall, in every corner and above every doorway, is artwork by the crème de la crème of the contemporary art world.
But then again the owner, Ivor Braka, isn't your typical restaurant owner, he is first and foremost an art dealer. He clearly loves his art, but I'm betting that the art on display isn't just there for the love of it; it's an investment.
But, if you were seated at a table in a gallery at the Tate Modern, Centre Pompidou or MoMA, you'd be pretty happy and so seated in the Elk Room of The Gunton Arms for dinner simply put a big smile on my face. Not that I liked it all or even agreed that it should all be there, but it was an experience to savour nonetheless.
I'm not sure the other diners would be too happy if I leaned over their tables to inspect the artworks, so a wander through at quieter times was definitely necessary and worthwhile.
Here are my personal favourites: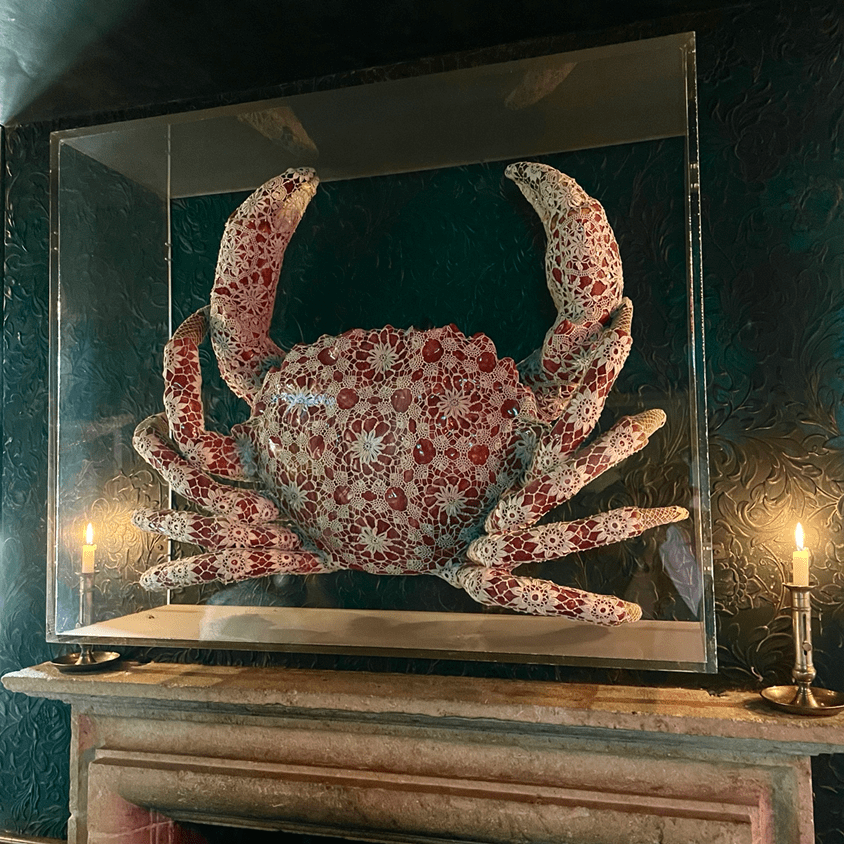 Joana Vasconcelos
This Portuguese artist has exhibited at the Guggenheim in Bilbao and the palace of Versailles amongst many other major sites and currently (2021) has a major exhibition at the Yorkshire Sculpture Park. Often her work brims with a feminist agenda, this crab though is born out of her collaboration with Bordallo Pottery. Famed in Portugal and beyond, this pottery, due to changing tastes, nearly ceased trading. However Joana Vasconcelos, keen to incorporate the traditions of Portuguese craft in her work started to work with Bordallo and also lace makers. Bordallo now thrives once more. The result is a beguiling mix of Portuguese history, culture and craft.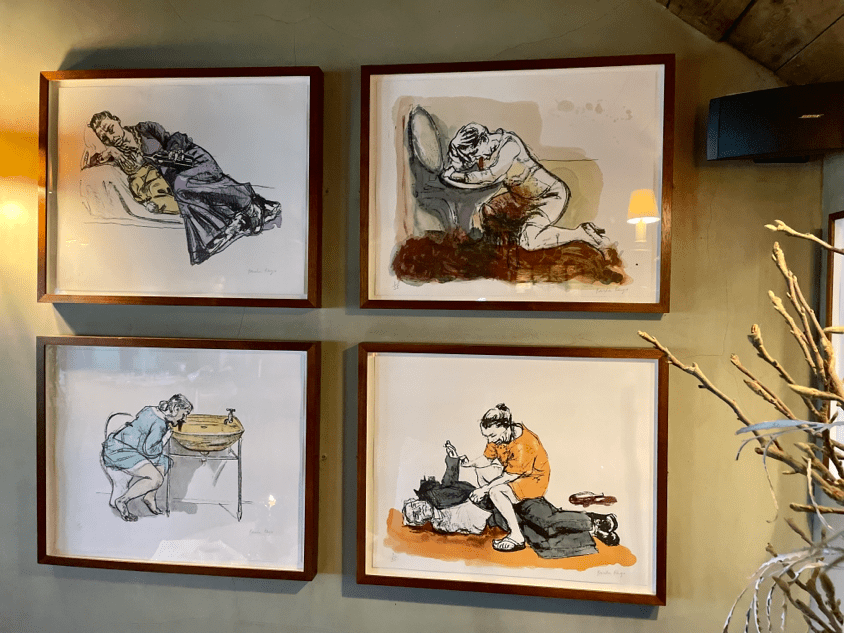 Paula Rego
Another Portuguese artist, who at the time of writing has a major retrospective at Tate Britain. Her works rarely shy away from difficult subject matter, often tackling the female experience of living in a patriarchal and/or a Fascist society.
The collection of prints here, are also subversive. Commissioned as they were, by a wine producer wanting designs for labels which stood out from the rest. What Paula Rego depicts is alcohol addiction and the violence often linked to it. Needless to say, the wine producer didn't use them. The decision by the Gunton Arms to exhibit them in a restaurant off the main bar area is a risk. It can be interpreted as making light of a serious issue.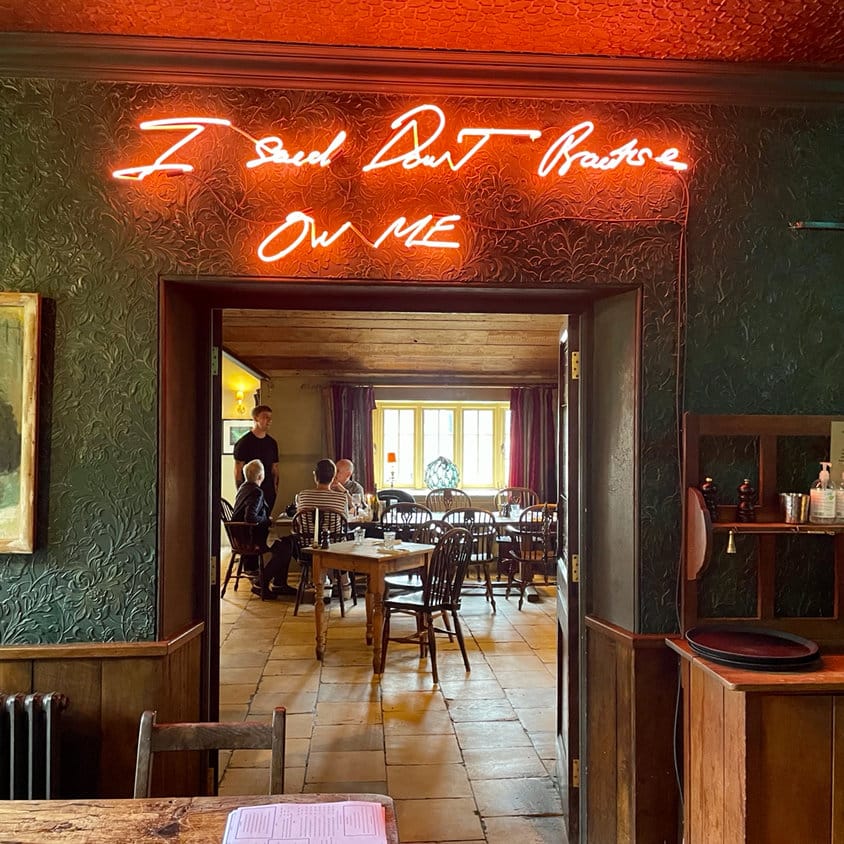 Tracey Emin
Unsurprisingly Tracey Emin and other YBAs Damien Hirst and Matt Collishaw feature quite prominently throughout. Sarah Lucas also makes an appearance in the gents, but Emin has 'The Emin Room' named in her honour, something the other two do not. I suspect Ivor Braka has a soft spot for her. Despite the current ubiquitous nature of neon messages as artwork, Emin's still shine bright. Although Emin's work is at times very self-indulgent, focussing as it does, virtually exclusively on herself, the emotional wrench is very present in each of them. You can feel the longing and hurt.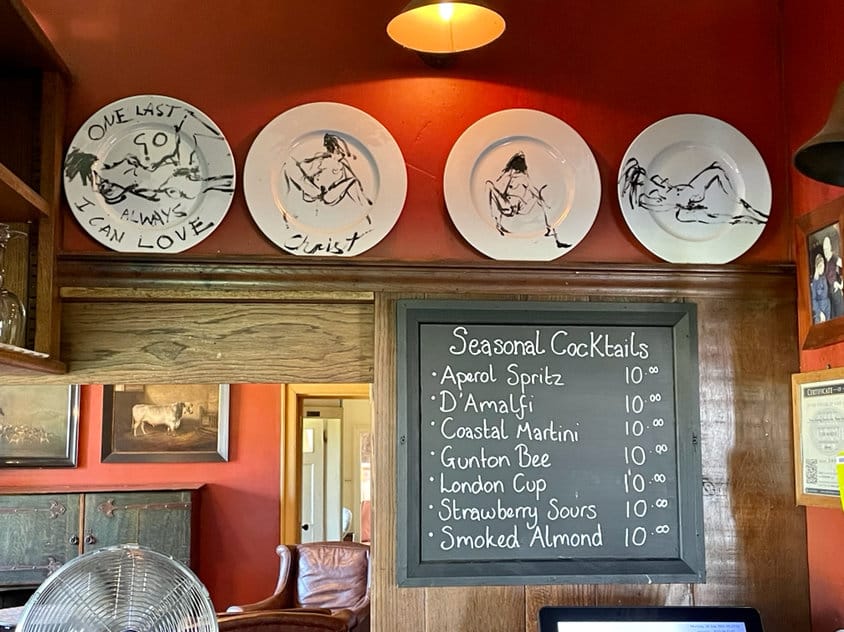 Tucked away, nearly out of view behind the bar is also a series of Emin's paintings on plates. Unmistakably Emin, these were an unexpected treat. Emin's art is often very much in your face. Discretely placing them behind the bar, to be discovered, was a nice touch.
There is also a fair amount of humour to be found in the choice and location of certain pieces, particularly in the toilets. In the Gents, it's clear that someone has a complex, perhaps unresolved, relationship with sex and desire. A combination of implied violence and homo-eroticism vies for wall space with clitoral stimulation and a visual pun on male ejaculation. It certainly wasn't a boring trip to the loo!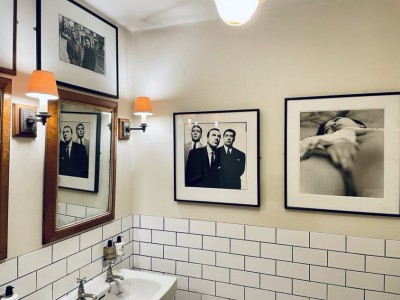 David Bailey, 'The Kray Brothers' (left) and Nobuyoshi Araki (right)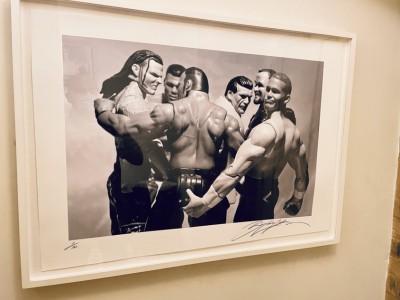 Bob Carlos Clarke, 'Men have feelings too'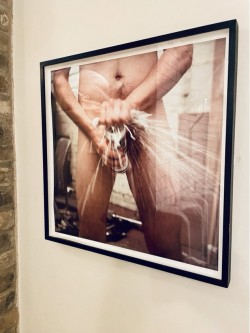 Sarah Lucas, 'Got a Salmon On (Prawn)'
The narrative running through the ladies WC (which my wife photographed, in case you were wondering), was less clear. A print of a Damien Hirst gold spot painting, has a wall to itself. A bit of a lazy choice, then again, Hirst's star lost its shine for me some time ago, roughly at the same time he started producing endless spot paintings. What was interesting, although I am not sure why they were placed in the WC, were numerous photographs of Lucian Freud. Braka is by all accounts, the go to dealer for all things Freud and Bacon, so he must have a plethora of these photographs. The photograph of Freud's muse Sue Tilley, best known as 'The benefits supervisor sleeping', is though an intriguing insight into one of Freud's most famous works.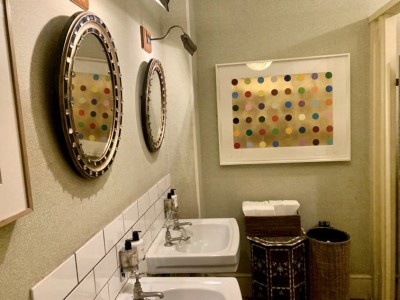 Damien Hirst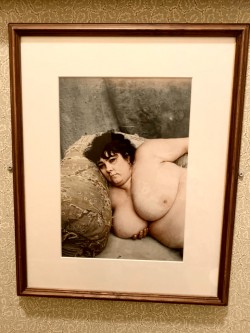 Study for 'Benefits supervisor sleeping'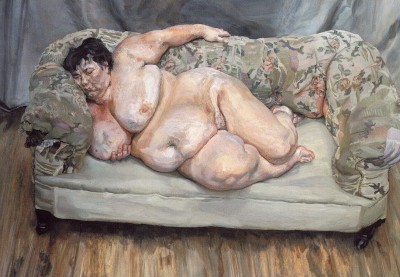 Lucien Freud, 'Benefits Supervisor Sleeping' (not on display)
But as with much in the art world, there are moments when, looking objectively, you come to the realisation that some isn't appropriate/acceptable any more. Although this opens up the contentious area of censorship in the arts, there does need to be an awareness of changing times and of possible audiences.
Two artists, in particular were, to my mind, problematic.
Nobuyoshi Araki
The Japanese photographer is renowned for his images of women bound by ropes and straps and often suspended. Yes the photographs are exquisitely composed and the contortions bewildering and certainly fall under the classification of art rather than pornography, but the boundaries are blurred. Braka is aware of this and goes to some length, in his handy art guide, to explain how the models 'volunteer in droves to be photographed by him' and that 'the ropes are not tight…' and that 'no one is hurt'. But it still remains a problematic image, the photograph adds to the considerable canon of the male gaze and the objectification and subjugation of women. Araki's intentions may be artistic but the viewers' may not be. Coupled with the fact that placed in a restaurant the image evokes hanging meat.
There also needs to be an awareness of who the viewer might be. Small children do not possess the ability to distinguish between a bound woman as art and a bound woman as prisoner. It could be a disturbing experience.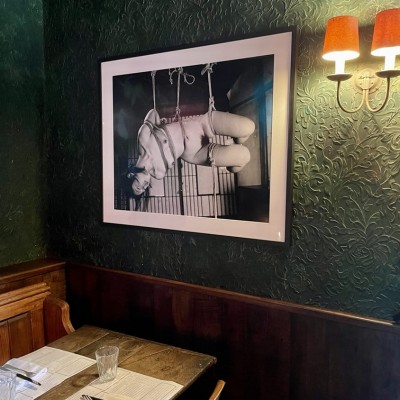 Nobuyoshi Araki
Glenn Ligon
Certain types of art require proper attention. The subject matter is too serious and too important to site in a pub. Glenn Ligon's work falls in that category. Born out of the experiences of living as a black and gay man in America, Ligon's work is both angry and confrontational. The scar of slavery that runs so deep within American society, isn't intended as wall-paper. Braka's choice of works, some littered with the word 'nigger', is an issue. Ligon uses the word liberally as an African American to make points about race, American history, injustice and discrimination. An African American can use the word, but in my opinion, a white art dealer, with no experience of slavery and what it is to be black in a racist society, simply can't. Spike Lee, the great African-American film director, once said of Quentin Taratino's overuse of the word in his films "I want Quentin to know that all African-Americans do not think that word is trendy or slick". Braka is aware that it is problematic. In his art guide he describes Ligon as an 'artist of formidable intelligence and integrity', and 'recognised as one of the world's foremost artists, bringing issues of race and slavery into an open arena'. This is not enough.
Siting several of Ligon's works in a conservative part of rural England feels more like an attempt to be seen as 'trendy and slick' rather than to educate locals about the black experience.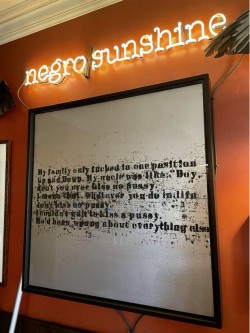 Glenn Ligon, 'Negro Sunshine'
In many ways, this was a brilliant experience. To be immersed in so much high quality art in a restaurant is a slightly surreal experience but one that is impossible not to enjoy. Certainly a place to visit and re-visit numerous times. It introduced me to a few new names and reacquainted me with quite a number of old favourites. The food was pretty good too!